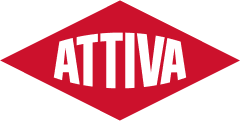 Attiva is the brand that always enables professionals to obtain the best results, offering high-performance products, supported by precise and practical technical tools, guaranteed by constant innovation, and destined to meet any specific painting need.
Ever since its founding, in 1921, the history of Attiva has always been characterized by its search for specific and state-of-the-art solutions for the treatment and decoration of various surfaces, both internal and external.
In the 1970s, thanks to important partnerships with an English paint factory, it had already launched highly successful products on the market, including Relax, Lax, the Murisan line and the entire Ingham Clark line for wood.
Over the same period, it extended its own product range from architecture & deco to include industrial and vehicle bodywork, to then establish itself in the marine and yachting sector as well.
Since 2001, Attiva is the strategic brand of Gruppo Boero with a technical and practical range of painting systems characterized by a high level of specialization, quality, and technological research.
With an expert-to-expert approach, it supports and promotes the work of professional painter-decorators, presiding over the Italian sector of high-value enamels, coatings, and paints.