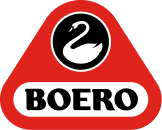 If light and colour were Italy's gift to the world, Boero is the brand which, more than any other, over almost two centuries of history, has represented the Italian vocation for colour.
Just about the only example in Italian entrepreneurial history, Boero still identifies with the family that founded the company when, in 1831, Bartolomeo Boero launched his small factory producing white lead pigment, already leading it to become a leader in the field of paint products for architecture & deco in the early 20th century.
A heritage of universally recognised professionalism, constant technological progress, and quality without compromise. Boero has always been a point of reference whenever a job needs to be done with proficiency, that endures over time and respects the environment and health.
Whilst the general trend points towards the gradual standardisation of lifestyles and patterns of consumption, the identity of Boero reveals its unique value.
A value which not only consists of skill and research but offers everyone a real opportunity to express their emotions and their personality, in all their living spaces, through excellence in colour.
Recently, tradition has renewed itself, stating it clearly. Boero is once again what everyone recognises it for: Italian colour since 1831.