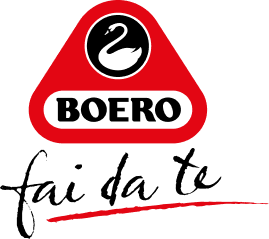 Boero Fai da te, a Gruppo Boero brand, was formed in 2014 as an extension of the Boero brand.
It is positioned within the context of Architecture & Deco large-scale retail, in which Boero has been participating since the Nineties.
The Boero Fai da te brand is dedicated to those who love DIY. It offers a comprehensive range of solutions to protect and decorate your entire home with style and ease, with the utmost respect for the environment and the health of consumers.
Given its strong focus on the end customer, the brand takes particular care of the marketing materials, offering information, suggestions, and advice for deciding which product to use, and for choosing and combining the colours most suited to an individual's style.