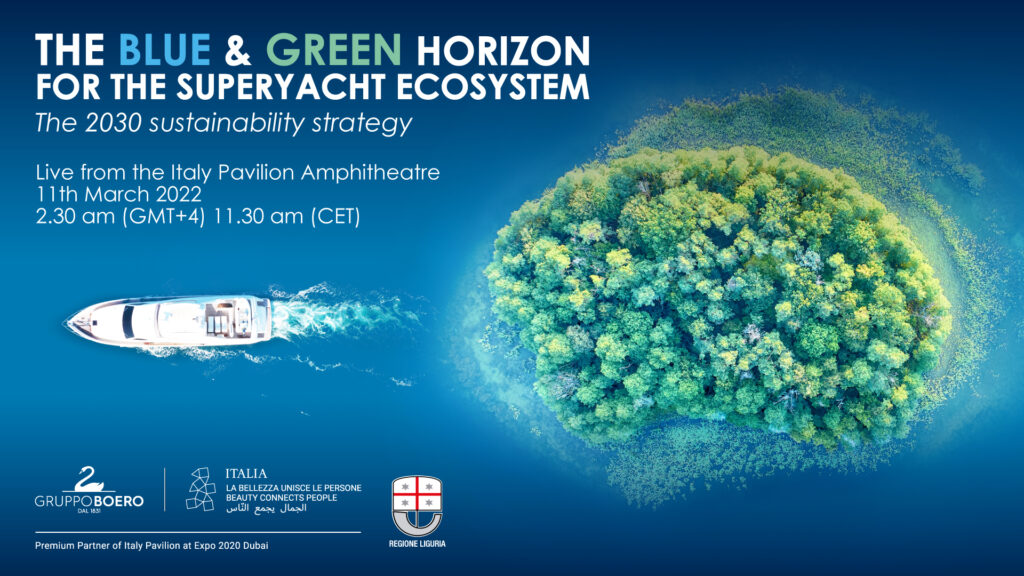 Gruppo Boero, Premium Partner of the Italian Pavilion at Expo 2020 Dubai, is organising the conference "THE BLUE & GREEN HORIZON FOR THE SUPERYACHT ECOSYSTEM – The 2030 sustainability strategy", which will be held on 11 March at 2.30 p.m. at the Italian Pavilion at Expo 2020 Dubai.
The Talk will delve into the theme of how the various players in the SuperYacht supply chain are working to reduce the impact of their activities and products on the environment and society.
An opportunity for sharing experiences among some of the main actors of the sector who, together, contribute to building a complex, articulated, and fast-developing world.
The event aims to be a catalyst for change, a starting point for launching a bigger conversation among stakeholders on the Blue & Green theme led by Gruppo Boero.
"This conference is the first important international event, conceived on a stage like Expo Dubai, and it will be followed by others in the future, so that all stakeholders in the sector can team up and participate in an ecosystem where they can propose innovation," comments Riccardo Carpanese.
This event is part of many activities organized during the week dedicated to the Liguria Region, from 8 to 12 March at the Italian Pavilion, full of content and initiatives, a lot of them dedicated to excellence in the nautical and maritime sector.
Speakers at the Talk:
Riccardo Carpanese – Gruppo Boero
Marijana Radovic – m2atelier Studio
Andrea Razeto – Confindustria Nautica
Barbara Amerio – Amer Yachts
Moderator: Martin Redmayne, Chairman & Editor in Chief of The SuperYacht Report.
The event will be streamed on the Facebook channels of the Boero YachtCoatings Brand and Italyexpo2020.
Facebook ENG https://www.facebook.com/events/282590293949061/
Youtube ENG https://youtu.be/sr-ER47jAWM
Facebook ITA https://www.facebook.com/events/551827479923466/
Youtube ITA https://youtu.be/J9BxGa5JWDo