Weplanet – 100 globes for a sustainable future
Behind the scenes of the Paint Your Future! project that represented the Gruppo Boero at the "Weplanet- 100 globes for a sustainable future" auction.
A decisive brushstroke around the world within a whirl of ideas on sustainability.
The Gruppo Boero globe for the event "Weplanet- 100 globes for a sustainable future". The creative fundraising auction conceived by the Weplanet association and organised by the Mondadori Group, is a reminder of how colour animates the world and how actions reveal the nature of things, especially the soul of the earth, blue and green.
With our lifestyles, our habits, our artefacts, our technologies, we have affected that green and that blue in a too distracted way.
The 100 globes, interpreted in an artistic way by different brands, were created to explore a theme and convey a synthetic message: that, both in the role of consumers and in the role of producers, we must change our style of relationship with the earth, seeking solutions that will re-educate us in a healthy dialogue with nature and reduce our impact on the environment.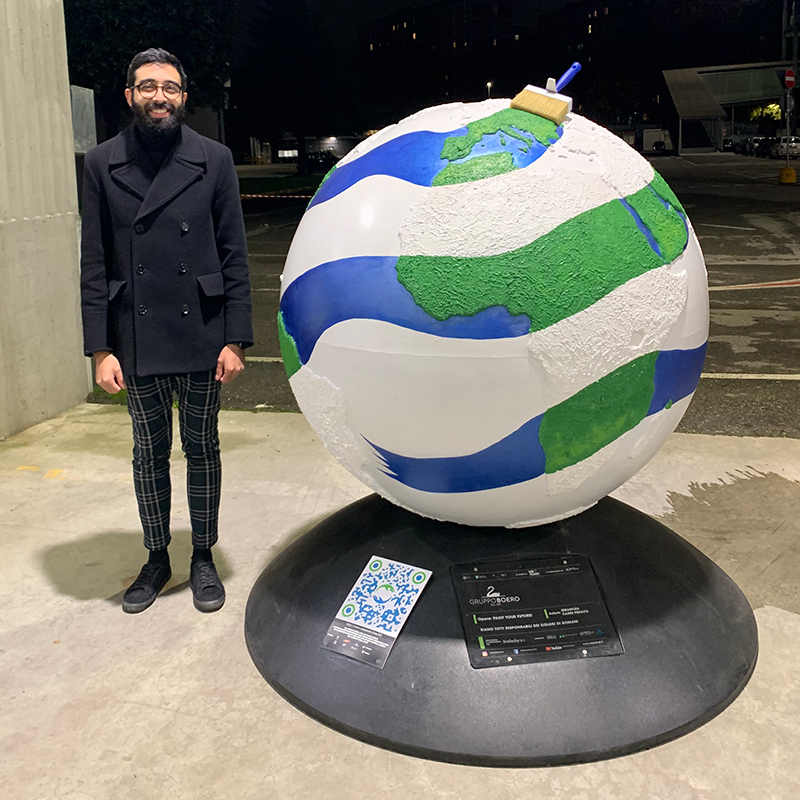 Man and the use of symbols
Man has progressed thanks to the use of symbols, which have enabled him to communicate and design his future, and those created for this fundraising day have set in motion a wave of reflection through the craftsmanship of professionals and non-professionals: hands and colour. The recycled plastic items were made using water-based paints created by the Gruppo Boero's Research and Development Office, a sustainable solution made available to creative people to realise their ideas.
Changing direction through error and awareness
It was Sebastián Cares Peralta, Communication Specialist at Gruppo Boero, who designed and painted the brand's orbit of colour around the world. He won the company's internal ideas competition and explains his way of "changing direction".
"Creativity is a human need: for me it has been so in a very strong way since I was a child – explains Sebastián, originally from Chile, who joined the Genoa office in July 2019 – even if a few years ago I had a moment of resistance to that drive, which I later had to listen to: for three years I attended medical school, following rational reasoning and the desire to be useful, but at a certain point I had to change direction, admit that I had to sacrifice three years of study in order not to give up on an instinct that was too strong.
admitted my mistake and enrolled in Graphic Design, aware that I would have to face another five years of study. But the decision to change direction changed my life for the better and today I am happy with my work. For me, the idea that it is possible to change direction is a given, as long as there is an awareness of the problem, and the mistake is a tool to gain more awareness".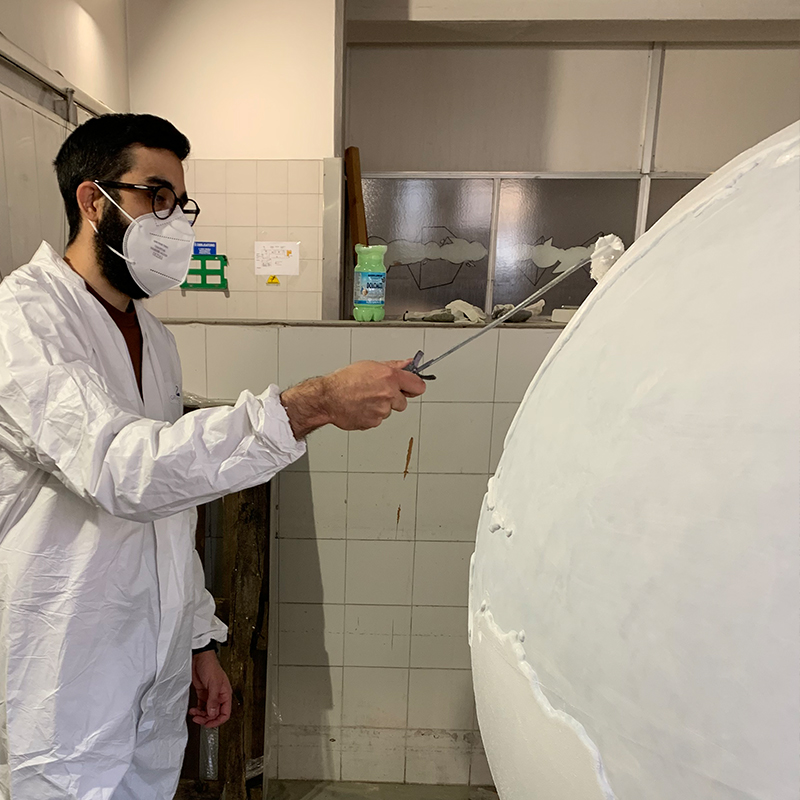 Looking at limits to see solutions
Often by looking at limits (and the event was intended to remind us of the limits of the environmental system) we can be more creative in finding solutions within them, and this is a concept that is present in many of the company's departments.
"Creativity becomes a solution when it accepts limits, as was the case with the feasibility studies of the various proposed projects." So, the idea of a globe on which visitors could leave their mark, showing the progression of time and actions on the material, had to give way to organisational difficulties".
Instead, the desire to show the co-participation and co-presence of so many energies in the globe designed together with the employees of Niguarda Hospital, in which so many hands are the marks of doing and having an impact, in this case for the good, was maintained.
But when we look at that globe, we see something else: the relationship between mutual limits, the possibility of observing the difference in shapes and space needed by everyone to be "in the world" and to allow coexistence.
One often comes up against limits in the everyday reality of industry too: between marketing ideas and production technologies, between R&D insights and market needs, between numbers and values.

Every compromise is a form of respect for limits: ours in dialogue with those of others.
Every gesture is an extension of thought, and if human beings have always tried to think in many colours to imitate nature, the environment asks us to experiment and invent new gestures, new formulas for new coexistences, in an earth that is screaming out loud its limits.
In order to change what is no longer sustainable, it is necessary to start from the awareness that sometimes what seemed to be an acceptable model of the future must be revised: a practice of error that makes choices more solid.
Find out more about the project We planet